SMSF Association invitation for feedback
Last Friday, FASEA released their Code of Ethics Guidance. This document aims to assist stakeholders in understanding, interpreting and applying the Code.
Compliance with the Code which comprises five (5) values and twelve (12) standards will come into effect on 1 January 2020.
The guidance includes case study examples which intend to detail practical implementation of the Code.
It is important to note that the Code must be read and applied as a whole. Therefore, it is intended that each individual standard operates in combination with the values and other standards prescribed in the Code of Ethics in order to strengthen and inspire good practice. Ie. A potential conflict of interest may not arise if the advice is clearly in the best interests of a client and in compliance with all the provisions of the Code.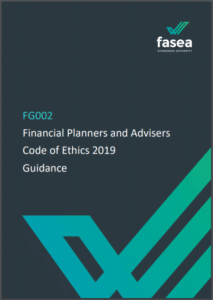 The SMSF Association expects FASEA will host a series of consultations which will help us provide constructive feedback on practical elements of the Code.
We encourage you to read the guidance and provide feedback or comments via the link below.
Click here to submit your feedback. 
We believe your feedback is of upmost importance as many of the case study examples include advice relating to SMSFs. The Code could have significant practical impacts on your advice business.
To view the SMSF Association's previous update on FASEA's Code of Ethics, please click here.
Code of Ethics Guidance
FASEA