Select from the 2 available quizzes below.

The first is designed to test SMSF knowledge, and the second specifically to test auditing
knowledge on the subject.
The SMSF Association's SMSF Knowledge Compass is an online tool designed to identify an SMSF professional's strengths, and opportunities to further enhance your expertise.
Simply answer 20 multiple-choice questions, encompassing a broad range of advice or audit topics; to see where you are excelling and where your SMSF industry knowledge can be improved.
Your personalised scorecard:
Once you've completed the quiz, you'll receive a personalised scorecard highlighting your strengths, key focus areas, and suggestions for further professional development and education options to supercharge your SMSF career.
Need a boost in a particular area? Try one of the 18 standalone SMSF Modules and build on your existing knowledge. Ready to take the next step in your SMSF career and become an accredited Specialist? Enrol in either the SMSF Specialist Advisor or SMSF Specialist Auditor program today.
Ready to discover your SMSF Knowledge Score?
Complete one of two (or both!) quizzes to discover your score. 
Depending on your speciality, you can complete the SMSF Knowledge Compass designed for SMSF Advisors (Accountants/Financial Planners) or SMSF Auditors (Auditors).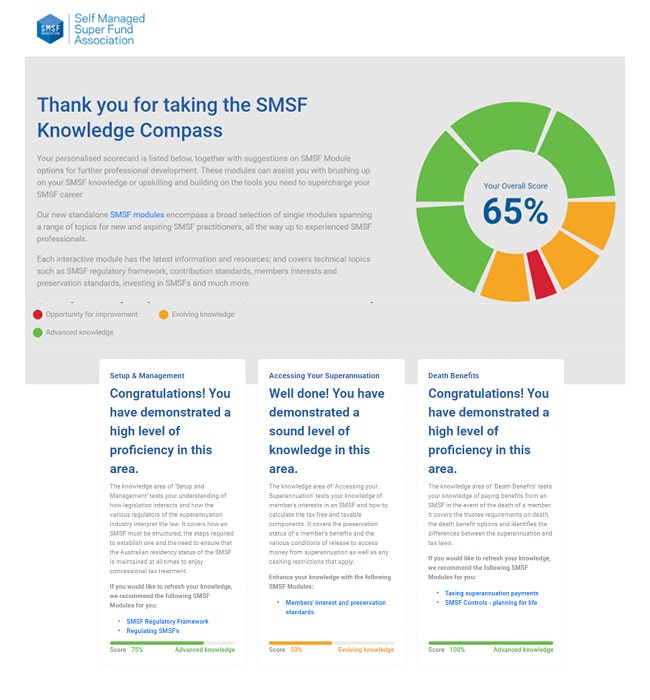 SMSF Knowledge
This quiz is ideal for: Accountants and Financial Planners or those considering the SSA designation.
SMSF Auditors
This quiz is ideal for: Auditors or those considering the SSAud designation.
Why is it important to assess your SMSF knowledge?
Your professional development is an important and necessary part of your SMSF career to enable ongoing professional growth, and in raising the standard of advice provided to trustees. As leaders in developing SMSF expertise and knowledge, our core focus is to raise the standard of advice provided by all SMSF professionals to better enable trustees to make informed decisions for their future retirement.
New SMSF Modules
Flexible learning for SMSF practitioners and aspiring
SMSF Specialists.
Become a Member today
Gain instant access to the many benefits of membership and help shape the future of the SMSF sector.