In the ever-growing SMSF sector, you can't afford not to be an expert in your field
With the successful completion of the Kaplan FPE016 Self Managed Superannuation Funds course, you have worked towards developing the necessary skills that will help you stand out from the crowd in your SMSF career.  
Showcase your SMSF expertise with the SMSF Specialist designation and access the wealth of Specialist member benefits including utilising the coveted SMSF Specialist Advisor designation, brand and credentials next to your name.   
There are three simple steps to unlocking your SMSF Association Specialist Advisor designation:
Successfully complete the Specialist Advisor exam – 90 multiple choice questions in 2 hours, supervised. Two attempts are complimentary, normally priced at $500. 
Complete a simple questionnaire confirming you satisfy the eligibility requirements of being an SMSF Association Specialist Member. 
Become an SMSF Association Specialist Member and you are able to use the designation!

Complimentary SSA exam
Pass your complimentary SMSF Specialist Advisor exam to unlock your Specialist designation
Submit your details

Flexible learning to help you gain the knowledge and skills you need, or brush up on, to excel in your SMSF career. 
Refresh your knowledge on a specific technical topic including contribution standards, members interest and preservation standards, investment in SMSFs and much more…
Use the promo code KAPLAN to purchase a module (or multiple) for $100 each (normally $275!)
Be recognised for your SMSF expertise by achieving the highly coveted SSA designation.
The exam consists of 90 multiple choice questions (no written answers required) in 2 hours. It is conducted online and under supervision. 
You'll receive a practice exam to help you prepare and are permitted a maximum of 2 complimentary attempts to pass the online exam.
Unlock your SMSF Specialist designation
Successfully complete the complimentary exam to join our vibrant, professional community
Enrol today
SMSF ASSOCIATION SPECIALIST MEMBER BENEFITS
Showcase your expertise as an SMSF Specialist
With the successful completion of your course, you are now eligible to upgrade to Specialist membership, unlocking the accredited SMSF Association Specialist Advisor designation and branding, Specialist-only CPD opportunities, feature on our "Find a Specialist" online directory for SMSF trustees, and access to the Specialist Showcase Series – a series of exclusive guides to assist you with shining a light on your expertise.
16 complimentary CPD hours
Access quarterly SMSF legislation and regulation webinars and our annual Federal Budget update presented by our Technical team.
Download regular, comprehensive technical papers on the latest SMSF issues and strategies.
Specialist member-only CPD opportunities.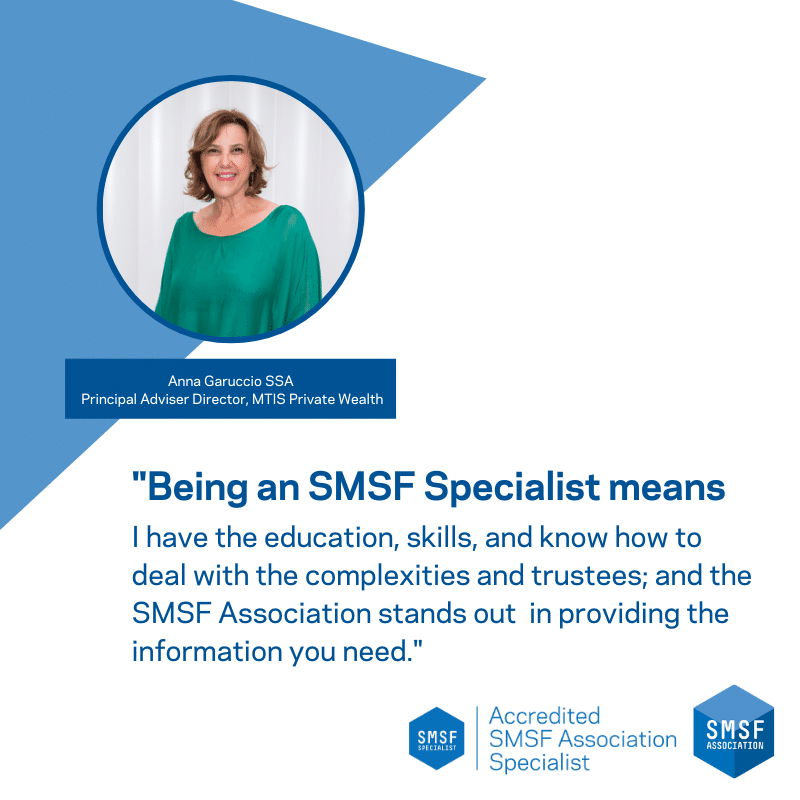 Stay up to date so your advice will be too
Be part of a trusted, professional community
Develop your network of like-minded and multi-disciplinary SMSF professionals.
Have your voice heard through our advocacy efforts